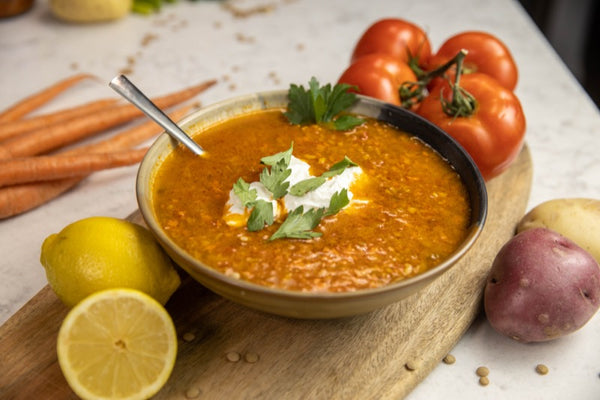 Moroccan Vegetable Soup with Lentils is vegan and gluten free. It's an aromatic soup with a mélange of spices including turmeric, ginger, cumin and cinnamon combining to create flavorful Moroccan soup. In our home we often refer to it as "magic soup" because it can be so comforting.
This soup is a good source of fiber, protein, potassium, vitamins A & C, and low in fat and cholesterol free. It's a pantry staple -- making delicious, healthy meals achievable every day.
Enjoy it as is -- or with leftover chicken, chickpeas, a poached egg or served over rice.
WHAT'S INSIDE:
Ingredients: Water, Tomato, Lentil, Carrot, Potato, Leek, Olive Oil, Vegetable Base (Vegetables and Concentrated Vegetables [Celery, Onion, Tomatoes], Soy Sauce [Water, Soybean, Salt, Alcohol], Cane Sugar, Maltodextrin, Natural Flavor, Potato Starch, Autolyzed Yeast Extract, Dried Onion, Dried Garlic, Spice), Celery, Parsley,  Cilantro, Salt, Spices, Citric Acid Contains: Soy, Alcohol.
Case of 6 or 12, 16 oz. glass jars
FREE SHIPPING WITHIN USA